You will need:
The Source SDK, downloaded via STEAM
the Sample QC File
Compiling: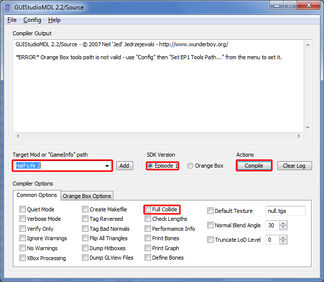 Before doing anything, download the SDK, once that's done, run halflife 2 to the main menu, quit, run the source SDK, run the model viewer in the source SDK, and quit. This will allow all necessary files to download and must be done.
Put the GuiSudioMDL executable in the sourcesdk/bin/ep1/bin folder
Set up your Ep1 tool path when prompted. Set to compile to "halflife 2"
OPTIONAL-set up your orange box tool path as well
Write up your .QC file, and save as Modelname.qc, saved as all times, not .txt text document.
Drag your .qc file from the model folder onto the GuiStudioMDL Executable
Press "COMPILE"
Done! Retrieve the files from the half life 2/hl2/models/SBEP_community folder and place them in garrysmod/garrysmod/addons/SBEP_models/models/SBEP_community folder
Load up garrysmod and find your brand new model in the browse menu for testing.
If everything works properly, contact an SBEP team member and if the model is up to quality expectations then we'll take a look at it, and possibly upload it to the SVN so everybody can use it.
TROUBLESHOOTING
If it says something along the lines of "WARNING!:Costly collision model:Truncating", then you will need to re-compile the model with the "full collide" option selected
If you get DLL errors for either Tier0.dll or vstdlib.dll, you can find those in other steam game/bin folders, or failing that find them online and place them in the sourcesdk/bin/ep1/bin folder
If you get an access violation...good luck to you. You'll need it.
If you get any error about the collision model that is NOT about a costly collision model, you've done something wrong in 3DS and need to fix it and then re-export.
Community content is available under
CC-BY-SA
unless otherwise noted.